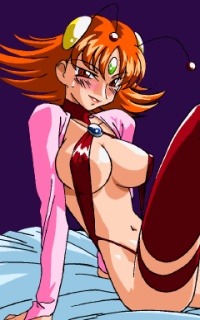 Narsha
ナーシャ
PRONUNCIATION:nar-sha
SERIES:Rise
OCCUPATION:Bodyguard
WORD ASSOCIATION:Sly, Seductress
Narsha is Tarma's most trusted female strong-arm. Smart and cunning, she'll use every trick in the bag to get what she wants.
In Rise After, she is entrusted by Saki to babysit Kiese so Saki can join Seed in Akira's rescue. Once Saki is gone though, Narsha kidnaps Kiese and takes him to Tarma's spaceship where she hooks him up to one of Hrmoni's genetic manipulation machines, rapidly aging Kiese to a young adult. She further makes a man out of Kiese before Akira barges in to rescue him. Now she cheers for Tarma as he trains at Makoto's dojo.
In Be With Akira!, Narsha is available as a fourth character to whom the player can have a relationship.
Appearances

- LEGEND -

Game / Starring Role

Game / Cameo

CG Compilation

Art Book

Manga