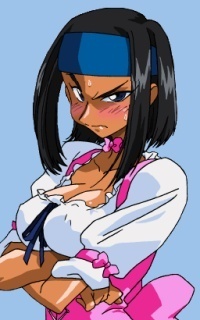 Makoto Takanami
高浪 真琴
PRONUNCIATION:tah-kah-nah-me mah-ko-tow
SERIES:Rise
OCCUPATION:Dojo Sensei / Waitress
WORD ASSOCIATION:Grappler, Vengeful
Makoto is a fiery, dark-skinned free-form martial arts champion from Osaka in the Kansai prefecture of southern Japan. In her spare time she runs a family dojo that specializes in holding and throwing styles of martial arts. However, the quality of students she had wasn't giving her much satisfaction, so she left home on a journey across Japan, competing in all tournaments that would allow her to pit her skills against the strongest women in the world. She enjoys belittling people, and often tricks Karin into participating in her practical jokes.
Rise After begins with Akira fighting Makoto. Though they are tied after regulation, Akira proved to the be the better fighter. Akira, having proved to herself the strength of her martial arts abilities, asks to retire from the match rather than particpate in a sudden-death overtime period. Makoto, stunned at her moral defeat to a simple part-time waitress and not given the chance to truly best her opponent, vows revenge. She follows Akira and Karin back to Anne Mitter's, barging in to challenge Akira to a rematch only to discover she's been captured by Tarma. Sensing he must be even more powerful than Akira, Makoto leads the party back into the underground to find Tarma's submerged spaceship and rescue Akira. Following their victory, Makoto decides to settle down by joining Anne Mitter's as another waitress and opening a new dojo, in which Tarma becomes her star pupil.
In Be With Akira!, Makoto's relationship with Tarma becomes intimate. She is another character with whom the player can attempt to win over but given her closeness to Tarma and martial arts abilities, such an effort may backfire.
Makoto's signature move is a submission hold called Bazooka Noodles.
Appearances

- LEGEND -

Game / Starring Role

Game / Cameo

CG Compilation

Art Book

Manga