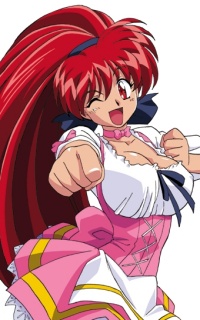 Akira Honjouji
本条寺 あきら
PRONUNCIATION:honn-jo-gee ah-key-rah
SERIES:Rise
OCCUPATION:Waitress
WORD ASSOCIATION:Justice, Defender, Cheerful
Akira, Anne Mitter's charismatic red-headed waitress, is the heroine of the Rise series. Strong-willed, compassionate and an expert of martial arts - third grade mastery in judo and fourth grade mastery in both karate and aikido - Akira doesn't take well to insincerity, injustice, or imprisonment.
In Rise, Akira tells her fellow captured friends Karin and Saki about her martial abilities and forms a plan to mount an escape. With the other two following closely behind, Akira leads the way out of the underground maze, fighting Seed's henchman along the way until she and Karin can escape.
In Rise After, Akira's abilities have waned, but not to the point she is not still a championship competitor. Having narrowly beaten Makoto, she returns to Anna Mitter's, where soon after an old friend soon reappears. Saki, her kingdom overrun by an invading army and her husband and son abducted, has returned to the surface to enlist Akira's help in freeing them. Akira, friend to the end, obliges. Akira herself is soon captured but with Makoto's assistance, is freed and together they defeat the invaders and their mysterious leaders.
In Be With Akira!, she is the character the game directs a player toward having a relationship, however, she's likely to break a few bones if you make your move before she's ready.
Akira's birthday is October 9. She is 163 cm (5'4") tall and weighs 55 kg (121 lbs). She has two finishing moves in her martial arts repertoire: Falcon Arrow and Burning Hammer.
Appearances

- LEGEND -

Game / Starring Role

Game / Cameo

CG Compilation

Art Book

Manga

Periodical

Audio CD