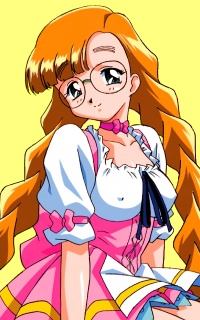 Karin
かりん
PRONUNCIATION:kah-reen
SERIES:Rise
OCCUPATION:Waitress
WORD ASSOCIATION:Timid, Crybaby, Effeminate
Karin is Akira's opposite in the Rise series. While Akira is strong and forthright, Karin is shy, insecure, and easily flustered. These qualities are epitomized most by her smaller stature and younger age compared to her co-workers. Karin is prone to fits of clumsiness while carrying serving trays, and thus is frequently relegated to cashier or greeter duty. She is easily influenced and often becomes an unwilling participant in practical jokes, most often Makoto's. Akira is her best friend and personal hero, both figuratively and literally.
In Rise, Karin is captured with Akira and Saki. She is torn between Akira's bold plan for escape and Saki's pessimism for success. When they do make their escape, she sticks close to Akira.
In Rise After, she initially follows Akira back to Seed's underground kingdom, but as parts of it are flooded, she manages to escape with Seed and Saki only to watch Akira be captured. Karin is the most vocal supporter for returning underground to rescue Akira, but Seed and Saki, having already saved their son, sadly think such a rescue is impossible. It is not until Makoto shows up that Karin has a new companion strong enough to help free her dearest friend.
In Be With Akira!, Karin is an alternate character with whom the player can have a relationship.
Appearances

- LEGEND -

Game / Starring Role

Game / Cameo

CG Compilation

Art Book

Manga

Periodical