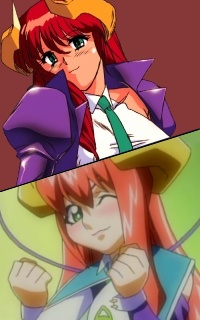 Mercedes
メルセデス
PRONUNCIATION:mer-say-dees
SERIES:The Devil Came...
OCCUPATION:Succubus
WORD ASSOCIATION:Moody, Unlucky, Jealous, Horny
Mercedes is named after the automobile brand of the same name. She is a fellow succubus of Carrera, but not as experienced. In fact, she is very unsuccessful at reaping souls. While Carrera is straghtforward and proceeds to immediately seduce her target, Mercedes is purposefully slow and tries to please her human conquests in other ways before making love, offering to cook or clean for them with disasterous results.
Mercedes is jealous of Carrera's success and often mopes about it. She is initially pleased when Carrera returns empty-handed after her night with Ogawa but soon finds herself cooperating with him in Carrera's rescue after her own attempt to reap his soul fails.
Appearances

- LEGEND -

Game / Starring Role

Game / Cameo

CG Compilation

Art Book

Manga

Novel

Periodical

Video

Audio CD