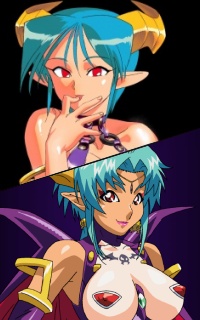 Carrera
カレラ
PRONUNCIATION:kah-reh-rah
SERIES:The Devil Came...
OCCUPATION:Succubus
WORD ASSOCIATION:Sexy, Horny, Reaper
Carrera, named after the Porsche atuomobile model, is one of the most experience succubi in the nether world. She has reaped the souls of countless men and looks forward to each new conquest with renewed interest. Due to her experience, she has been assigned to work with the wizard Alpina to help harness more powerful energies from the human soul.
She is called to Earth by Ogawa's summoning spell, where she gives him the standard summoning contract: pleasure her completely or lose his soul. Since no man has ever completely satisfied a succubus, Carrera has no doubts that Ogawa will be just another soul she brings back to the demon world. To her surprise he has an nearly unlimited well of energy and manages to satisfy her.
Carrera returns to the underworld empty-handed, which has never happened to her before. She is summoned before the lords of the nether world to explain her failure, where she embarressingly states he fulfilled his end of the contract. Undeterred, the demon masters demand she return to Earth to claim his soul, for the power he possesses may tip the balance in their favor in their eternal war against the angels. Carrera balks at this notion and is imprisoned for her crime against inhumanity.
Soon thereafter, she is transferred to the custody of the angels. Ratty and Alpina stage a rescue with Ogawa's help. Unable to return the demon world, Carrera decides to permanently live with Ogawa.
Appearances

- LEGEND -

Game / Starring Role

Game / Cameo

CG Compilation

Art Book

Manga

Novel

Periodical

Video

Audio CD