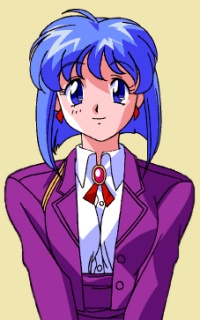 Lilia Milcrave
リリア・ミルクレーブ
PRONUNCIATION:lil-lee-ah mill-crayve
SERIES:F40
OCCUPATION:Police Detective
WORD ASSOCIATION:Policewoman, Hidden holster
Lilia works for the local police department's special investigation unit headed by Fauzen. Raika is a close friend who shares a lot of the same duties in their respective jobs. In F40, she is tasked with finding three missing persons. When her search leads nowhere, she turns to Raika for help. Raika, with no case to work on at the moment agrees to help.
Compromising situations easily embarrass Lilia. She's been trying to keep her relationship with Mark a secret and does so successfully until Raika bumps into them while they are on a date. She's ashamed to introduce her boyfriend to Raika, although both she and Seera agree that they make a cute couple.
Although she works for Seera's father, Lilia had never met Seera before Raika introduced them to each other.
Lilia is 22 years old with measurements of 87-58-88 (34"-23"-34.5"). She is an Aquarius (January 20 - February 18) with type A blood.
Appearances

- LEGEND -

Game / Starring Role

Game / Cameo

CG Compilation

Art Book

Manga

Novel

Periodical