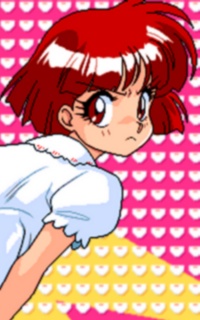 Kazuyo
一代
PRONUNCIATION:kah-zoo-yo
SERIES:Afternoon
OCCUPATION:Contestant
WORD ASSOCIATION:Fiery, Sore Loser
Contestant #1 in the Under 20 Talent Contest, Kazuyo becomes enraged when the announcement is made that Mutsumi has won. Taking things into her own hands, she proceeds to show off that she's still more talented than Mutsumi could ever be.
Kazuyo rips of her competitor's clothing to show her underwear is more stylish; continuing, she compares her shaved genitals to Mutsumi's natural appearance. Kazuyo attempts to prove she's more talented in sexual situations as well, only to find Mutsumi will fight back to keep her title.
In the end, both girls are disqualified for illegal cooperation, turning Kazuyo's wrath to the show producers.
Appearances

- LEGEND -

Game / Starring Role

Game / Cameo

CG Compilation

Art Book

Manga